An emotive and strategic gathering to prepare for the future
Our fourth team gathering took place last week in Barcelona. This time, the objective was to further align on our product roadmap to serve our clients' evolving Environmental, Social and Governance (ESG) strategic needs within a global context of economic uncertainty. The event finished with one of the most memorable sessions ever, in which we celebrated the team's individual contributions to Reforestum's mission, values and successes in a very special way. We now are ready and willing to face whatever the future holds and seize the opportunity of a lifetime!
The equinoxes are the only times when both hemispheres experience roughly equal amounts of day and night; they mark an ephemeral balancing of the Earth that ushers in the most hectic seasons of the year. As if we had unwittingly synchronised with the pace of the planet, the dates set for the most important events at Reforestum almost coincide with these phenomena: our team gatherings. 
Although all our team gatherings take place in a specific context, each of them precedes phases with special relevance in Reforestum. They are articulated as a moment of pause and alignment, reflection and ideation, projection and retrospection. We mostly experience them in person, which helps us to bond and to convey positive energy needed to face the next stage, which, being a startup, is likely to be challenging.
We have the opportunity of a lifetime ahead of us. If we stick together, do our best and act smart, we can and will succeed.
This way, the fourth episode of the Reforestum team gatherings was held last week, right before the beginning of the last quarter of the year. For several pragmatic reasons, this time we decided to move from the rural venues surrounded by nature that we usually choose for these get-togethers to the urban landscape from which most of this remote team works: Barcelona.
On Wednesday 28th of September, the entire Reforestum team woke up excitedly and very early, before dawn. From seven different origins, we all managed to arrive at the agreed time to the meeting room of the Monday Diagonal coworking space, in the heart of the city centre. Our initial reunion took place quickly, with warm greetings, heartfelt hugs and some nerves. Our agenda, carefully defined in advance, soon had us engaging with a presentation wherein one of our founders reinforced why we were all gathered there in Barcelona, and what we would be discussing.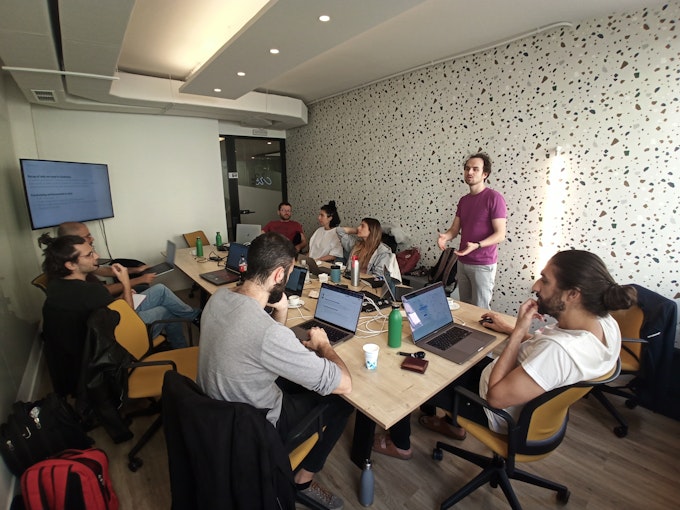 "Reality check session", in which Alban Bressand, CRO and Cofounder of Reforestum presented the current situation from a financial, commercial and market point of view.
It is always inspiring to start off by recalling Reforestum's mission. Every time we state it, we feel proud that we are dedicating a large part of our vital time and energy to a purpose that we all share - one that aims to make this planet a better place to live in. We also took a few minutes to cherish the meaning of our values, which we finished polishing just a year ago during our second team gathering in El Falset. We happily realised that we all still identify with them and they are still valid. 
The objectives we wanted to achieve during this summit were then presented. Referring to the uncertainty that pervades the market and the continent, Diego Sanz Prieto, CEO and founder of Reforestum, told the team: "Despite the many recent changes and the difficult times we are going through in Reforestum and in Europe, we have the opportunity of a lifetime ahead of us. If we stick together, do our best and act smart, we can and will succeed".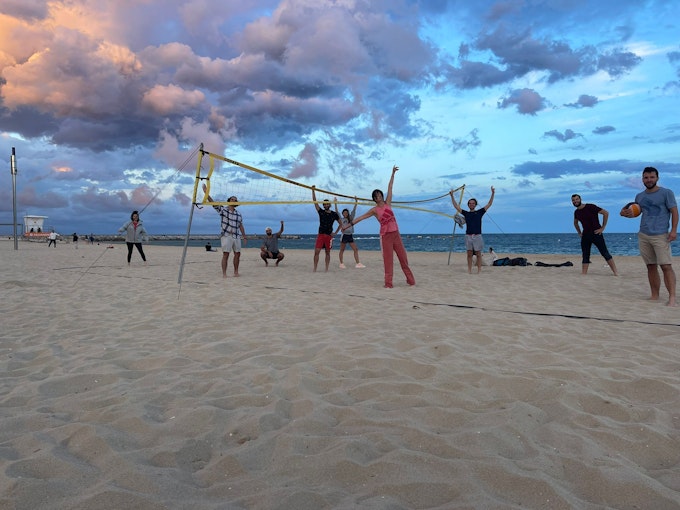 The Reforestum team enjoying beach volleyball at Bogatell Beach, Barcelona.
After this first session, and after having lunch in the courtyard and playing a bit of ping pong, we then got down to business and went into a series of sessions that would lead us to agree on the path that Reforestum ought to follow in the coming months in order to serve our clients' evolving Environmental, Social and Governance (ESG) strategic needs within a global context of economic uncertainty.
This sequence started by looking at the past and the present, with an analysis of Reforestum's current situation from a financial, commercial and market point of view, and a retrospective session on our use of OKRs (Objectives and Key Results, an organisational framework which we have been applying for a year).
Retrospectives are an amazing tool in the agile methodology which, based on each person in the team acknowledging the different feelings they have experienced in a specific situation, enable us to improve rapidly and continuously take into account the feedback from the whole team.
From that starting point, over the next one and a half days we undertook several iterations of divergent and convergent thinking that allowed us to delve deeper into topics of importance until we had reached the minimum outcome we had set for the summit: the definition of the structure and content of the objectives for the fourth and final quarter of the year.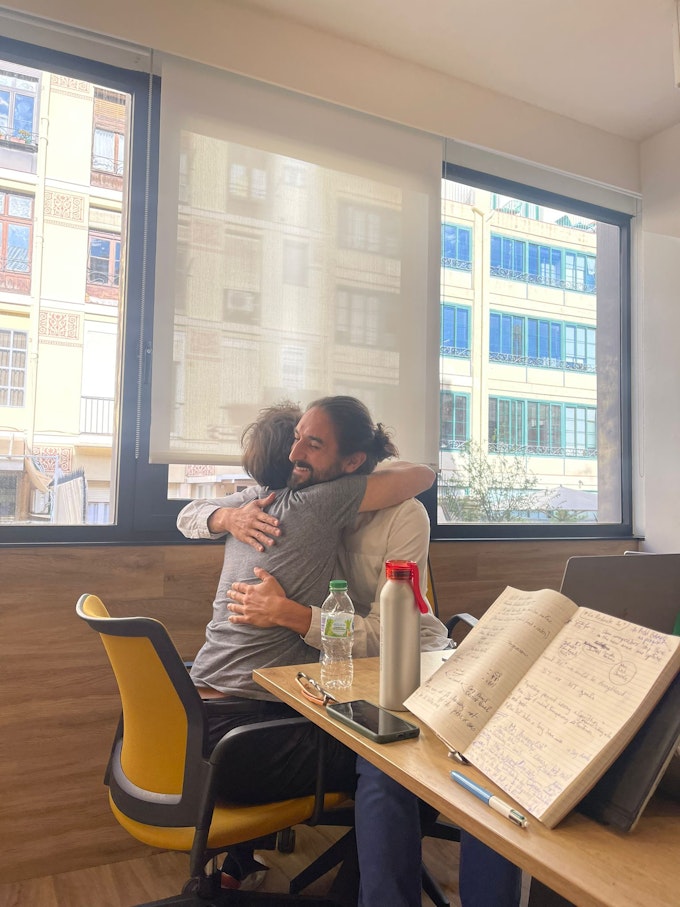 Reforestum's founders, Diego Sanz Prieto and Alban Bressand, during the motivational session
It was time to close the sessions with an impactful exercise that made us very aware of our talent. We first warmed up by going over the 131 kudos (internal messages of talent recognition and congratulations) that we had exchanged during the last semester. This, in addition to reinforcing this practice as an essential part of our culture, was a fun way to help us identify more than 30 skills which have already led to different successes. 
After getting into "recognition mode", we did a round in which each person in the team acknowledged at least two of their own contributions to Reforestum and two of the people sitting next to them that they were proud of.
The result far exceeded expectations for a motivational session. A warm atmosphere of trust, admiration and gratitude was built among all of us which elevated us to a state of plenitude that left us energised and with many messages to think about. It is amazing what can be done with a culture of authentic trust and collaboration, where there is always a safe space to communicate feelings openly.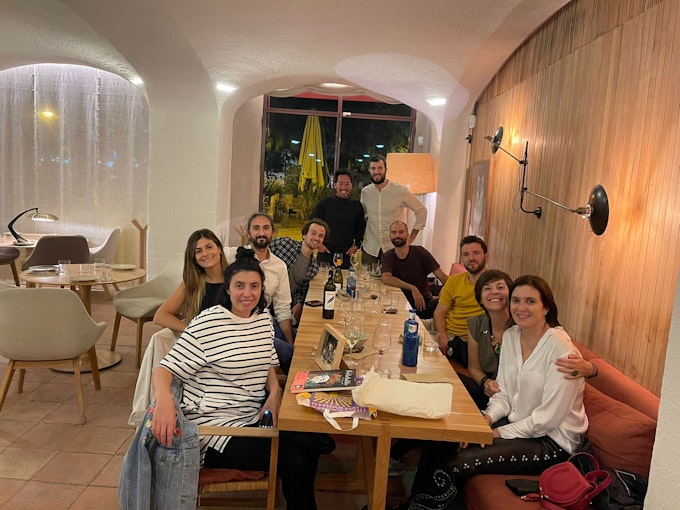 Impressive The Reforestum team enjoying a fantastic dinner in The Green Spot with two very good friends of ours.
It was the shortest event we have had so far, and yet we were able to enjoy volleyball on Bogatell beach, a barbeque at the home of the newest team member and a delicious dinner with two very special friends of Reforestum. 
I would dare to say that it was also the most touching and motivating of our team gatherings thus far, I suppose it inevitably reflected the moment of inflexion in which we are in. It also showed that we are ready and willing to face new challenges. We feel united, inspired and talented, which is, at the end of the day, what will make us capable of achieving anything we set our minds to - and will make us capable of seizing, as our CEO would say, the opportunity of a lifetime.
Sign up to our newsletter to never lose a thing!