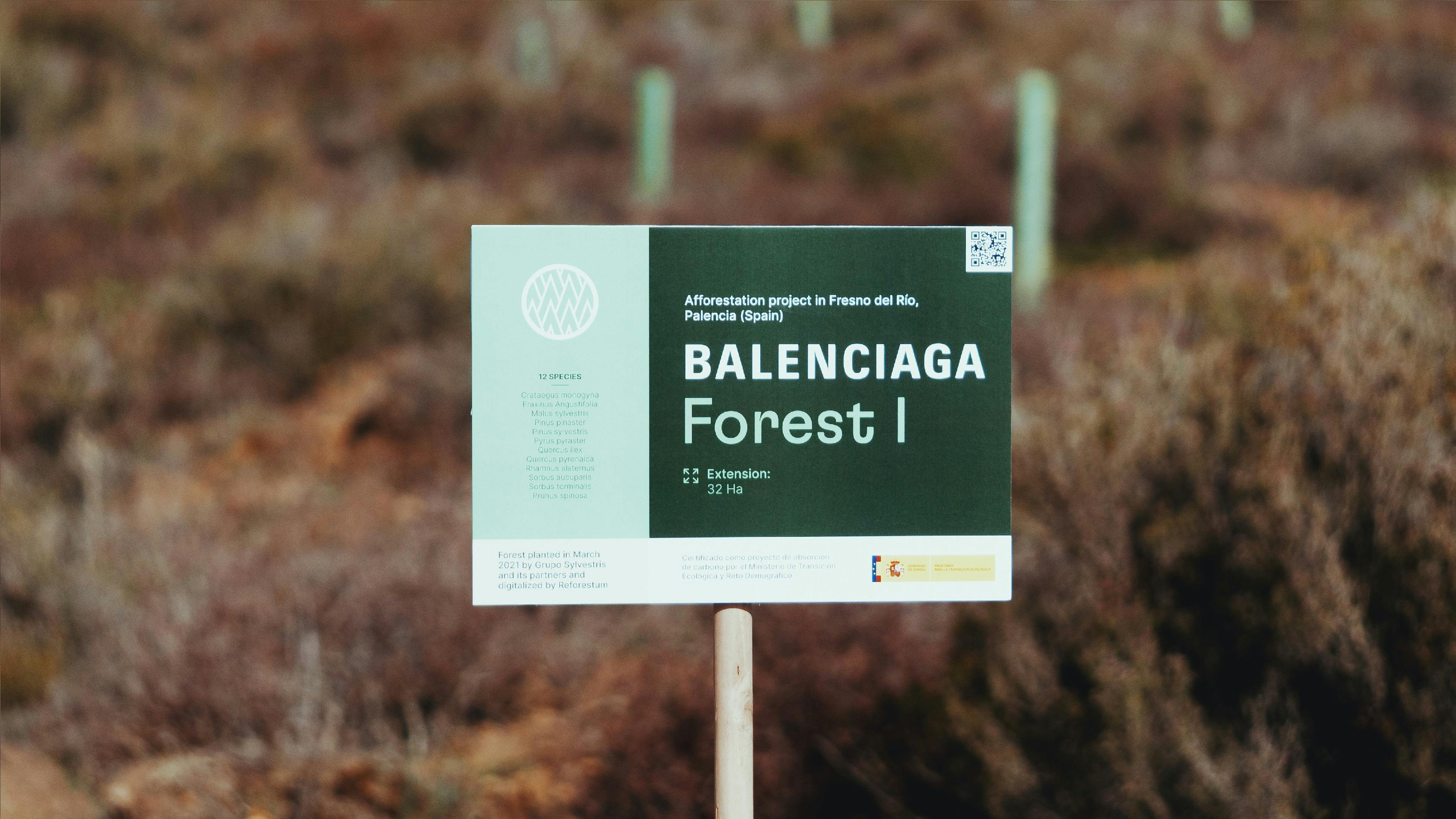 Balenciaga raises environmental awareness by involving its e-commerce customers in the impact of their purchases
With fashion in the spotlight due to the industry's significant contribution to global emissions, luxury brand Balenciaga faces the need to broaden a strong environmental commitment. Balenciaga has integrated the power of technology and nature-based solutions into their e-commerce to engage with their customers, raise environmental awareness and educate their audience on making responsible choices.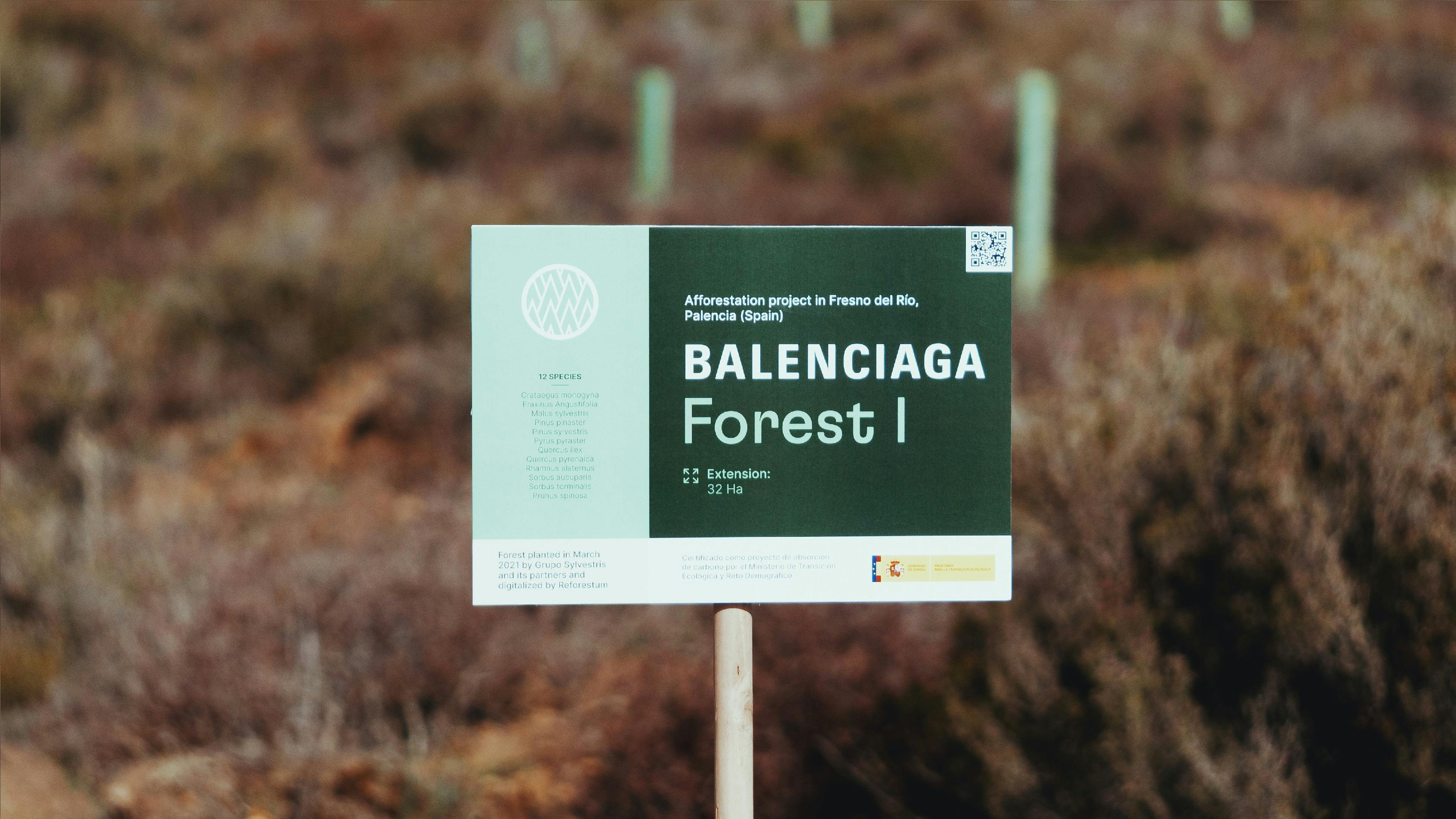 Challenge
To involve final customers in Balenciaga's sustainability initiatives, increasing the reach and impact of decarbonisation efforts.

Solution
Integrate sustainability efforts into Balenciaga's e-commerce, creating awareness about the impact of each order in terms of emissions and give e-commerce customers ownership of the environmental asset corresponding to the carbon footprint of their purchases, also granting them access to a platform that enables interaction with high-quality forestry projects.

Benefits
Increased engagement with the brand due to Balenciaga's environmental actions becoming closer and tangible, individuals empowered to acknowledge the impact of their purchases and to take part in the brand's climate contribution and widespread education on high-quality environmental initiatives due to a platform accessible to all Balenciaga visitors that closely monitors forestry projects.
Balenciaga
Founded by Spanish-born Cristóbal Balenciaga in 1917 and established in Paris in 1937, the original house of Balenciaga defined modern couture with its many innovations to form and technique. Since his appointment as artistic director in 2015, Demna continues to uphold the vision of Balenciaga through boundary-pushing collections, which have expanded to include women's and men's ready-to-wear, accessories and objets d'art. The brand's unprecedented interactions with the expanding digital realm, material developments and today's social responsibilities keep it at the forefront of modernity. In 2021, Demna designed Balenciaga's 50th Couture collection—the House's first since its founder retired in 1967—reintroducing a standard of cutting-edge elegance.
Among the top European luxury brands, Balenciaga stands out for its interest in material and structural innovation, an early obsession of the Couture House's founder, Cristóbal Balenciaga. Balenciaga strives to craft unique pieces that overcome and evolve the understood conventions of luxury. 
This comes with the inevitable environmental impact of the fashion industry: having almost doubled clothing production in the last 20 years, the global fashion industry is responsible for over 10% of the world's emissions and up to 20% of global water pollution.
Although the biggest impact comes from fast fashion, luxury brands have the ability to shape behaviours and educate consumers. Balenciaga in particular has demonstrated immense power in influencing how people relate to the world around them.
Balenciaga has been part of the Kering Group since 2001 and its values have evolved along with those of Kering and the challenges of the modern world. Long before the climate crisis felt so imminent, back in 1996, Kering prioritised sustainability in its ethical principles, which would become key pillars of its corporate strategy over the years.
With all these variables at stake, in addition to ensuring the reduction of its footprint within the design and production of its collections throughout its entire value chain, by the end of 2021 Balenciaga had an opportunity to tackle its residual emissions through restorative Nature-Based Solutions (NBS) while leveraging on the reach and power of its brand to educate and involve its customers along this journey. The Balenciaga Sustainability team felt it was the right moment for the topic of sustainability to move from a primary presence in management conversations to being closer to the consumers, becoming a pioneering way of adding value to the brand and raising awareness of its environmental impact.
That is how Reforestum, the platform that provides unparalleled traceability and credibility to the voluntary carbon market and brings together brands and consumers around certified offsetting projects, became Balenciaga's partner in 2022.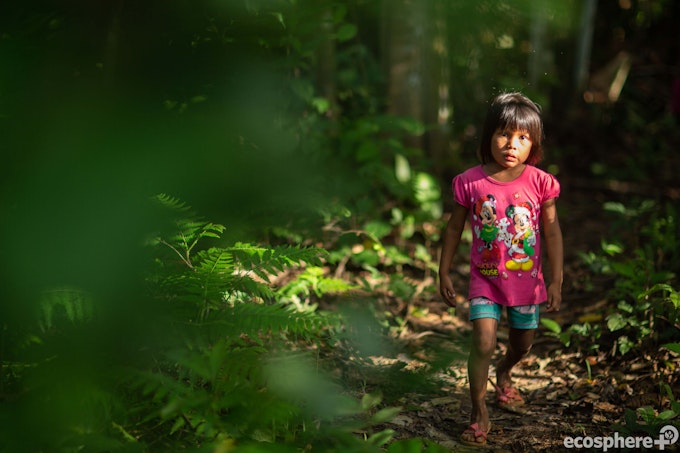 Nii Kaniti, which means forest and development in the indigenous language local to the Ucayali region of central Peru, is a conservation project spanning across a total of 127,004 hectares sponsored by Balenciaga.
The first step was to choose appropriate and reliable forestry projects, for which Reforestum carried out the corresponding search and procurement according to their needs. The Balenciaga Sustainability team believes that restoring natural ecosystems is as important as reversing climate change. Therefore, they chose to require projects with a holistic approach to impact. Given these requirements and the complexity of this market, it made sense for Balenciaga to partner with an entity that can group several relevant nature-based projects within the same portfolio.
Balenciaga decided to support three high-impact certified projects in Europe, South America and Asia: an afforestation project in Fresno del Río (Spain) called Balenciaga Forest I, as well as the forest conservation project Nii Kaniti in Perú and the Sumatra Merang Peatland restoration project in Indonesia. Information on the projects supported by the brand can be accessed through Balenciaga's corporate profile on the Reforestum platform.
While such initiatives are becoming increasingly common among large corporations, Balenciaga took a further step by involving their final consumers and raising awareness of responsible consumption with Reforestum's technology as a facilitator.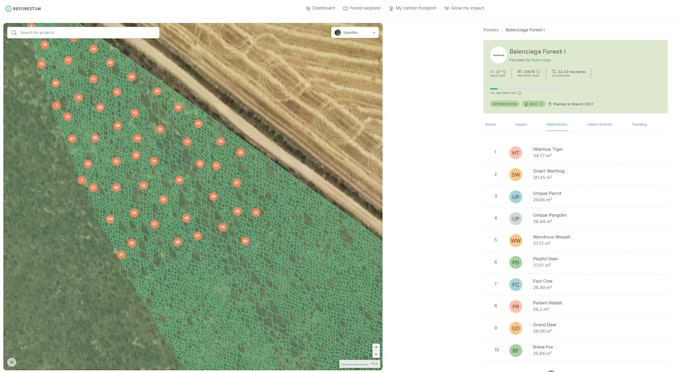 Visualisation of the environmental assets generated in the form of Forest Participations in the Balenciaga I Forest (Spain) through the Reforestum platform.
In this context, the global brand decided to give every e-commerce customer an environmental asset corresponding to the residual carbon footprint of their online purchases. The environmental assets, previously financed by Balenciaga, are nominative resources that have a specific positive impact on the planet (quantified according to its carbon storage capacity) and take the form of forest shares in afforestation projects and of Verified Carbon Units (VCUs) in REDD+ projects. 
The process through which Balenciaga gives an environmental asset as a gift with every online purchase is as follows:
Issuance. Each online order is associated with an environmental asset in one of the forestry projects, which is automatically generated at the time of purchase based on the location from which the purchase is made and its impact in terms of CO2 emissions.
Delivery. Every environmental asset is generated with a unique activation link. This link is included in the purchase confirmation email and through a pop-up message on the website. Customers are informed about their gift and encouraged to activate it so that they can be linked to the environmental asset. 
Activation. The customer can activate their gift by registering on the Reforestum platform via the landing page, reached by clicking on a unique link associated with the purchase. Reforestum's technology guarantees that environmental assets are not double counted, even if they are not claimed by their owners (the e-commerce customers).
Tracking. Reforestum's platform allows users to see and track their environmental assets and related forestry projects (with further details such as pictures, updates, location and social impact) and access reported data from projects worldwide thanks to satellite imaging and AI technology. 
Empowerment. By creating a Reforestum account, a customer becomes part of a global community of Reforesters. This means they can calculate their individual carbon footprint and amplify their positive impact on the planet by supporting other forestry projects.
This process was made possible by integrating the Balenciaga and the forestry platform systems thanks to Reforestum's API (Application Programming Interface). This allows data to be exchanged with end-to-end traceability in an agile, secure and GDPR-compliant way and the process to run automatically, smoothly and seamlessly.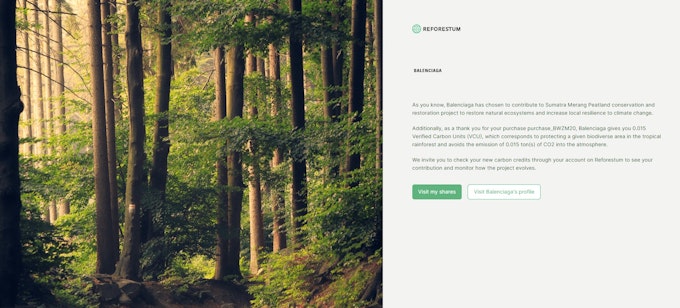 Landing page reached through the unique activation links included in the confirmation page and mail. By clicking on "Activate my shares" the user can associate the environmental asset to their own account on the Reforestum platform.
In the first month of the initiative, which started in August of 2022, 18% of Balenciaga's e-commerce customers clicked on their activation links and 18% of those customers activated their environmental assets. Based on the knowledge gained about the platform and these results, the Sustainability Team at Balenciaga considers the first figures are a positive start and improvements can be made by leveraging the technological platform.
In the coming years, as Reforestum manages Balenciaga's multi-year commitment to forestry projects in Spain, Peru and Indonesia, both brands plan to work closely together to iterate and increase the relevance of this initiative by establishing mechanisms that learn from the end consumer, boost the activation rate and improve users' involvement in taking climate action. This collaboration is an opportunity to contribute to behavioral change and increased environmental awareness.