Reforestum Forest Shares & Collaborative Reforestation: Working Together to Build Trust
Reforestum Forest Shares help build unprecedented levels of transparency and traceability on reforestation projects. They are the foundational piece of our model for Collaborative Reforestation. This article explains why Forest Shares are necessary to rebuild trust in the (forestry) voluntary carbon market, being essential to accelerate the fight against climate change and reverse global deforestation in a way that boosts engagement among every stakeholder: citizens, employees, customers, local communities, and more.
Reforestation is one of the most cost-effective ways to fight climate change while restoring the earth's biodiversity. However, both companies and individuals have shown reluctance to back forestry projects. 
Governmental, intergovernmental, and non-governmental organizations have helped to shape voluntary carbon markets to incentivize the necessary investment in climate solutions, and yet forestry projects have remained underinvested.
How can we explain such a low level of engagement and investment in forestry projects around the world? 
In a nutshell: Mistrust. 
Although project certification methodologies, ensuring projects' integrity, have been put in place and have improved over the years, carbon markets rely often on data obtained manually during the very early phases of a project and every few years after that. This makes it difficult to know with precision how much carbon emission has in fact been offset or avoided at a given point in time.
Carbon credits are also often perceived as abstract, intangible, and unintelligible concepts for end-users who are not sure of how their funds have an impact on the ground. As an example, I would like to encourage you to look at some of the best-known standards and its registries (e.g., Gold Standard, Verra, etc), which we will discuss later in this article. 
Such variances and inaccuracies, which are often inherent to the complex nature of forestry projects, carbon markets, its certifications, and registries, have caused much-publicized errors (e.g., double counting and leakages) and have unintendedly contributed to companies being accused of greenwashing. As a consequence, the private sector and its stakeholders have become skeptical.
To tackle these transparency and traceability issues, we have designed Reforestum Forest Shares to help rebuild trust through transparency and monitoring while fostering engagement and commitment from all stakeholders through our collaboration platform.
Reforestum's proprietary Forest Shares help build unprecedented levels of transparency and traceability in reforestation projects, enabling genuine collaboration through trustworthy relationships. Reforestum Forest Shares are the foundational piece of our model for Collaborative Reforestation.
This article explains why Forest Shares are instrumental in rebuilding trust in the (forestry) voluntary carbon market, which is essential to accelerating the fight against climate change and reversing global deforestation and biodiversity loss. Furthermore, that boosts engagement among every stakeholder: citizens, employees, customers, local communities, and more.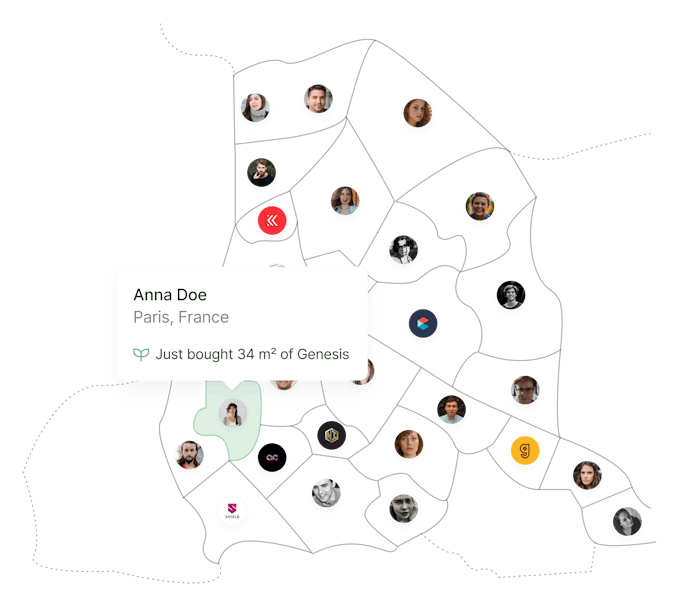 Visual representation of Reforestum's Forest Shares
How Forest Shares work
A Reforestum Forest Share is, simply put, a fraction of a forest measured in hectares or square meters. It represents the symbolic property of a portion of the project that can be intuitively represented on a digital map.
This division of projects unlocks a new collaborative model for reforestation. Think of Forest Shares as units that enable crowdfunding for projects and at the same time, create an intuitive public registry directly on a publicly available map.
Here is an example I love to use: When I book a flight, I almost always check the box to pay an extra fee to offset the emissions of my trip. However, most airlines (to my knowledge) do not tell you exactly how they are offsetting. At most, they send you an email at the end of the year with very general information about how they used your money.
On the contrary, with the Reforestum Forest Shares model, users are directly assigned an easily visualized piece of a reforestation project. In other words, users can directly see how the location, size and impact of their offset. Every stakeholder can locate themself on the map, and follow their Forest Share as well as the overall project's evolution over time.
Such a degree of traceability at a transactional level was unseen until the introduction of  Reforestum's Collaborative model. Now it's entirely possible.
Trustworthy reforestation projects must be meticulously designed, executed, maintained, and monitored in order to become effective and long-lasting mechanisms against climate change and global biodiversity loss. An essential component of that meticulous process is a Geographical Information System (GIS). 
Simply put, having a GIS in place means that accurate digital maps of the project are used for the project's proper planning, implementation, and general management.
The backbone of how we build trust and transparency in the forest carbon market is our Monitoring, Reporting and Verification (MRV) system, which takes advantage of GIS and processes satellite images through artificial intelligence.
Reforestation projects are split into Forest Shares that are displayed on public maps on our platform.  This increases transparency and traceability of projects and their environmental outcomes. As a result, whoever holds a Forest Share receives environmental outcomes from that part of the project for 30, 40, or 50 years. In our current projects, particularly our afforestation projects in Western Europe, those outcomes typically correspond to the present and future carbon sequestration rights embedded in a Forest Share. These rights will become Carbon Credits over time, sometimes even upfront, depending on the certification methodology implemented by the project.
Under the Reforestum Forest Shares model, the environmental outcomes embedded into a Forest Share can be more than just carbon sequestration rights; they can also embed social and biodiversity benefits (e.g. The Climate, Community and Biodiversity Standards, or CCB Standards). The kind of environmental outcomes depend on the type of certification (or certifications) adopted by the project.
Besides unlocking a collaborative reforestation model and a greater level of transparency and traceability of projects, Forest Shares also help solve some of the traditional structural issues of carbon markets, as we explain in the following section.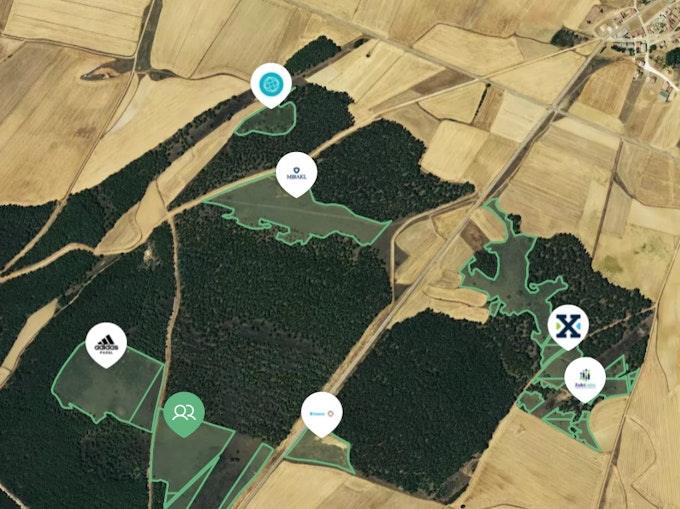 Forest Shares in Calahorra de Boedo forestry project
How Reforestum Forest Shares tackle structural issues in the market
Governmental and intergovernmental organizations, such as the United Nations, have spent the last two decades developing instruments to incentivize forest protection and regeneration in order to help slow down climate change and prevent further biodiversity loss. Ultimately, these efforts converged in what we today know as carbon markets. More specifically: voluntary markets (and as opposed to the compliance markets, where forestry projects do not take part).
Our analysis has shown evidence that the high level of complexity and intelligibility of the market and standards that shape it have contributed to a general feeling of mistrust that has slowed down its growth. Other consequences of these challenges are reflected in the marginal levels of engagement among the public and private sectors. As such, the market hasn't produced the levels of investment that are necessary to tackle a global climate and environmental crisis.
The following sections tackle some of these issues and explain how Reforestum Forest Shares aim to build a solution via increased trust and engagement.
How Reforestum transforms opacity into traceability
First of all, I would like to encourage the reader to have a look at Verra's registry, one of the most reputable ones in the market (48.5% market share in 2019). Admittedly, it does not look bad at first glance. Now, navigate to one of their project pages, for example, Cordillera Azul. If you were determined to fully understand and analyze the quality of this project or how the calculations for issuing credits work, you'd need to study 164 documents and 14 spreadsheets. We are talking about 200-page documents, and, even when experts read them and contrast data, they disagree. At Reforestum, we perceive this system as opaque; a system that has not made many sufficient efforts to get closer to non-expert stakeholders.
With the current tools and resources, only a few experts in the world can fully understand this system. More importantly, for the wider audience, it's incredibly hard, or perhaps even impossible to think of a Carbon Credit as a tangible physical entity. This makes its cognitive traceability nearly impossible, or at least extremely counterintuitive. As we can see, the system fosters suspicion. It's kind of easy to get away with dubious accounting, or at least, for it to be perceived as shifty.
It's not surprising, then, that the final result is a market that isn't so easy to trust; one where it's certainly hard to identify good projects and good carbon credits.
Forest Shares make carbon credits tangible by unequivocally linking an outcome -typically a carbon credit- to a given part of a project that's owned by a single entity. Since Forest Shares are drawn on a map, it's easy to identify their ownership and "finiteness". Forest Shares are straightforward, public and easy to understand. They naturally constitute a registry, and to understand that registry, a user need only look at a map!
Forest shares can be issued through Reforestum's APIs by organizations willing to achieve a higher level of traceability and engagement with their audience on their path to Net-Zero. And they can also be acquired directly by individuals through Reforestum's online platform from one of our community forests.
How Reforestum transforms disbelief into trust
Customers demand access to information that will help them to decide which products and services match their personal values. With this information, customers continuously choose whether to stay loyal to their favorite brands, or whether to switch to others. As an indicator, 66% of respondents to a McKinsey US cohort survey (and 75% of millennial respondents) say they consider sustainability when making a purchase.
As a response to the climate crisis and to this increasing demand from customers to embed sustainability in their products, many companies and industries have been compelled to (and some have led!) an evolution towards more sustainable organizations. Unfortunately, some of these initiatives have not been perceived as genuine, and many have been accused of the so-called greenwashing, sometimes unfairly.
Countless companies claim they are improving their supply chains to be fairer, that they are becoming more "green," or that they will be Net Zero in 2030. Some go as far as to promise that they will plant a tree in your name for each product you buy. However, most of the time, there is no clear traceability between a customer's decision to buy a product, the company manufacturing it, and the sustainable initiatives behind it. (Remember the example of the airline?)
Forest Shares help companies to tell a clear and indisputable story about the sustainability of their products and services. In other words, Forest Shares make utterances such as "this tree," "this piece of this forest," "this carbon credit," "this offset" concrete by linking pieces of forests to economic transactions. In other words, when you for example offset your flight to Barcelona by using our model, you can link your carbon offset purchase to a concrete Forest Share and thus a concrete piece of forest on our digital map. Hence, Forest Shares help customers distinguish between companies doing greenwashing and those that do not.
How Reforestum transforms lack of trust into engagement
It's quite an ambitious endeavor to remove mistrust when it is instilled in a system. At Reforestum, we believe such a challenge requires an innovative and fresh approach that rebuilds trust through transparency and traceability.
As stated by the World Economic Forum, "an integral part of a credible tree investment strategy is monitoring. [...] Companies need to include long-term monitoring, reporting and verification system [...] to provide more confidence in the additionality of investments, the survival, and growth of trees over time."
Forest Shares boost the best standards and certifications. Their embedded outcomes are monitored by auditors, and (when available) remotely via satellites, in near real-time. The superior level of transparency, traceability, and tangibility naturally translates into a higher degree of trust. 
By issuing Forest Shares from the forestry projects that they fund, companies build and support their own communities. By linking the issuance of Forest Shares with their native business transactions, companies build an end-to-end traceability system for a new era of trust between customers, employees, and companies.
Issue Reforestum Forest Shares. How your company can achieve superior engagement with employees and customers.
Reforestum's platform, conceived to support our Collaborative Reforestation model, can help your company build a high-quality NBS (Natural Based Solutions) portfolio to meet your most ambitious Net Zero goals. Additionally, you can leverage Reforestum´s Forest Shares model to engage with your employees and customers. 
Our technology can be infused in your own platform, where it becomes easily accessible to your employees and customers. Our technical, sales and product teams are available to design the best solutions to meet your audiences' needs and to show you how we safeguard and protect your customers´privacy.
Learn more about our API here, about our corporate profiles here, about our Monitoring, Reporting, and Verification system here, or simply contact our advisors' team here, and we will be happy to support you on your path to sustainability in a way your audiences can truly appreciate.
Join a global community of reforesters. Step forward in the race to fight climate change.
Climate change is one of the biggest challenges humanity has ever faced. And we all sometimes feel powerless and alone when we even dare to think about how to help reverse it.
But the reality is you are not alone, Reforestum is building a global community of Reforesters that are helping to stop climate change through Collaborative Reforestation. You can join us here, find out more about our projects and their communities here, or, if you do not know where to start, simply go to our calculator and estimate your personal carbon footprint.