4 Reforestation Projects That Will Give You Hope in Humanity Again
Reversing climate change is a hot topic and a highly ambitious undertaking. The following people and projects have proven it can be not only done, but done with heart. If you are who you admire, then we are them.
1. Antonio, The Tree Whisperer
In 1973 a man named Antonio Vicente, just one of fourteen children, bought a relatively small patch of land (77 acres/31 hectares) in the Serra da Mantiqueira mountain range of São Paulo, Brazil, and with the help of some donkeys and a few extra hands began reforesting it.
Everyone thought Antonio was crazy, including Brazil's government. The land had been stripped bare and razed for grazing cattle —and had little to no sign of life. His neighbors forecasted Antonio would never make an income due to the fact that he wasn't growing crops or grazing cows. But Antonio paid the haters no mind. He had been witness to the detrimental effects of modern farming techniques. He grew up watching his father operate a local farm, and the farm's water eventually dried up due to the fact that the owners had ordered him to cut down trees for grazing cattle.
He is now 84 years young and has eight waterfalls and 50,000 trees on his land.
2. Jadav, The Forest Man of India
In the Northeast region of India, just south of Bhutan and next to China, is a small "state" called Assam. There in Assam flows the great Brahmaputra river. Increased flooding has altered the flow and built-up mountains of sand along the river banks. Jadav Payeng, at 58 years young, has reclaimed a small island that has built-up along this river for himself, and his reforesting it.
Every day he walks two miles to his piece of paradise, nicknamed Molai after him, which sits within the occupied territory of the Mishing tribe (who do not concern themselves with land deeds or titles) and nurtures the ecosystem there. What started forty years ago as a mere stretch of sand —no, trees or grass, just a pile of driftwood —has turned into a 1,300 acre forest which now homes tigers, deer, monkeys, elephants and a wide variety of birds. Jadav could take all the credit, but he doesn't: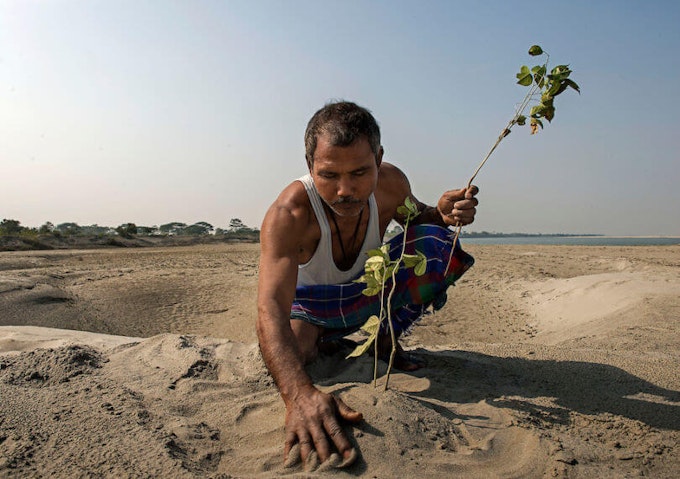 It's not as if I did it alone. You plant one or two trees, and they have to seed. And once they seed the wind knows how to plant them, the birds here know how to sow them, cows know, elephants know, even the Brahmaputra river knows. The entire ecosystem knows.
3. The Green Wall
People think the Great Wall of China is the most impressive wall on earth. But they haven't heard of The Green Wall. This wall began as an idea in 1952 to form a 30-mile line of trees east to west through the North African desert, creating a front line of trees to contain the desert. But it now represents not just a physical manifestation of this idea (the planting of trees), but a greater intervention to address the needs and struggles of the people and the ecosystems of the Sahara and the Sahel. There is now a combined body called the Great Green Wall of The Sahara and The Sahel Initative (GGWSSI) that brings global partners together to improve local incomes and sustain the management of natural resources and ecosystems in the drylands.
The initiative is not only battling climate change but also trying to gain greater food security for the people who live there. This movement has gained participation and momentum from many key global players, such as the World Bank and the United Nations. Progress has been through plantings and land restoration in Ethiopia, Nigeria, Sudan and Senegal.
The GGWSSI is making gains in the area of partnerships, connecting regional, sub-regional and national action programs that combat desertification. And it is setting an example for the rest of the world to follow.
4. Green Belt Movement
Have you ever heard of Wangari Maathai? For anyone who has ever wanted to become an environmental superhero, this Kenyan woman was the environmentalist equivalent to Wonder Woman. Her non-governmental organization, Green Belt Movement, has a mission to "mobilize community consciousness for self-determination, justice, equity, reduction of poverty, and environmental conservation, using trees as the entry point'' (Green Belt Movement, 2003, p. 6). She helped organize women in Kenya to combat climate change by planting trees and therefore restore their access to fuel for cooking, stop soil erosion and even general an income.
Since 1977 over 51 million trees have been planted and 30,000 women trained in bee-keeping, food processing and forestry. She represents someone who has not only made the world a better place but affected the lives of the women who inhabit that world. She passed away in 2011, but her organization continues her legacy of environmental activism which combines humanitarian and environmental efforts. And for that we will always be grateful.